Helsinki Cathedral bell tower




Shader

:

Megamap

Address: At the crossing between Yliopistonkatu and Unioninkatu

When the imagination takes over, even everyday objects acquire new dimensions. Such objects can include buildings, for example. Megamap is a collection of stories about such elements and dimensions. The work opens the viewer's senses and stimulates the imagination, showing what lies beneath the surface of familiar things.

Like a number of similar video works exhibited abroad, this flamboyant, commissioned work is based on video mapping technology. Several such works served as the inspiration for Megamap. Only a few works based on this technique have been seen in Finland.

A precise 3D model will be made of the Cathedral bell tower, to serve as a basis for a range of content production. Astounding three-dimensional content can be created on a two-dimensional surface by manipulating 3D animation perspectives. The 3D animation will be cast by a high-performance projector on the entire wall surface of the bell tower.

Its soundscape will be based on an original rendition of familiar works of classical music.

The soundtrack of artwork contains:
Mussorsky - Night on a Bald Mountain
Dvorak - Symphony No.9 4th Movement
Strauss - Also Sprach Zarathustra
Bach - Toccata and Fugue in D-Minor
Barber - Adagio for Strings
Wagner - Ride of the Valkyries
Prokofiev - Dance of the Knights

Intro, sound effects & remix: Shader

The piece can be viewed without a break and will last seven minutes. Shader Oy, the company behind this work, is a partner of Lux Helsinki.

Photo: Lauri Rotko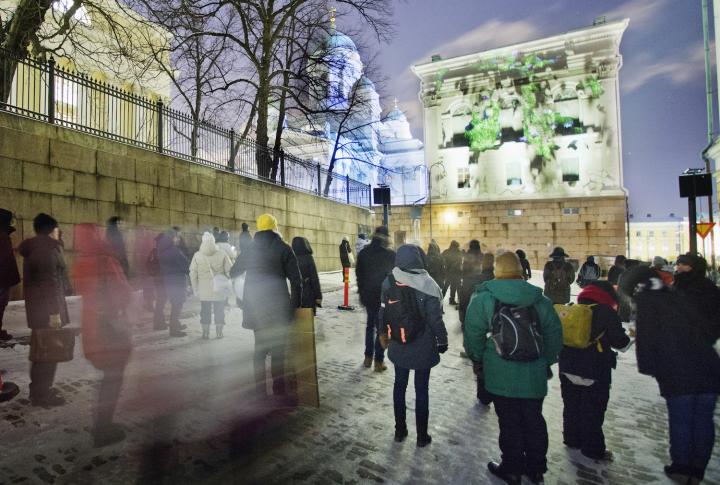 Performance time: 5 pm – 10 pm
Shader is a production team of three people who met as students. This Helsinki-Rovaniemi trio's strength lies in multi-skilled digital production. Their expertise is grounded in long-standing interests providing experience in the visual arts and digital tools going all the way back to the beginning of the 90s.
Pekka Tavi (b. 1979, Kangasala) is an animator and modeller.
Mikko Kunnari (b. 1979, Kemijärvi) is a visual artist who specialises in 3D visualisation. He moves freely between traditional and digital visual expression, using aesthetic means to evoke moods and feelings.
Timo Yliräisänen (b. 1975, Kemijärvi) is a producer and audio-visual generalist whose art dwells on encounters between people and technology. Yliräisänen wants to create art which everyone can experience.